India state leader's nephew bailed after 'police slap'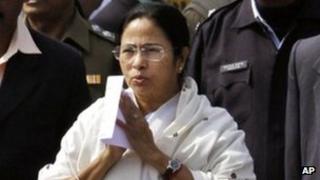 A court in India's West Bengal state has given bail to Akash Banerjee, a nephew of the state's Chief Minister Mamata Banerjee, who was arrested for allegedly slapping a traffic policeman.
The court also granted bail to three of his associates.
Reports said Mr Banerjee had slapped the policeman when he was stopped for driving in the wrong direction in Calcutta's Kidderpore area.
Police initially let them go but later arrested them on Ms Banerjee's orders.
Ms Banerjee intervened after seeing reports about the incident in the local media.
On Friday, the defence lawyers argued in the court that the accused had not assaulted the sergeant and that it was just a case of a traffic violation.
They said their clients had been wrongfully charged for assaulting a public servant - a non-bailable offence.
Earlier reports said that when Mr Banerjee was stopped by the policeman, he asked: "Do you know who I am?"
Witnesses said Mr Banerjee and his companions then allegedly abused and assaulted the traffic policeman.
Reports said police let him and his companions off once they found out he was related to the chief minister.
Ms Banerjee was elected the first female chief minister of West Bengal state last May.
Her Trinamool Congress (TMC) party routed the communists, who had been in power since 1977.