Shehla Masood killing: India politician raided over activist's death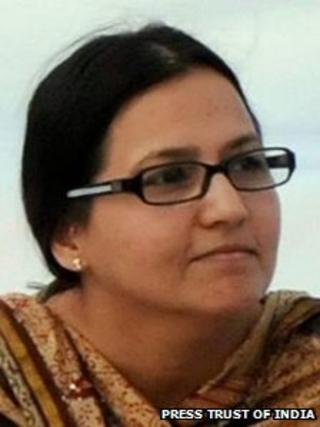 Police in India have raided the offices of a legislator in Madhya Pradesh state in connection with the murder of a right-to-information activist last year in the city of Bhopal.
Bharatiya Janata Party's Dhruv Narayan Singh was also questioned by the Central Bureau of Investigation (CBI).
Last week, police arrested two people, including an architect in Bhopal, Zahida Parvez.
The second person was a criminal hired for the killing, they said.
Shehla Masood was found with a gunshot wound in her car outside her home on 16 August.
She was on her way to an anti-corruption protest in the city.
A special team of senior CBI investigators is arriving in Bhopal on Monday to investigate the murder.
Mr Singh's office was searched on Sunday evening and he was questioned for several hours on Saturday.
"The CBI had called me for questioning and I have told them whatever information I had on the issue. Whenever the agency would call me again, I will go there," Mr Singh told reporters after he was questioned.
Officials have not said anything yet about the motive behind the killing.
But media reports, quoting CBI sources, said Mr Singh was close to both Ms Masood and Ms Parvez.
Ms Masood, who ran an event management company, had filed a number of right-to-information applications, a number of them related to wildlife conservation.
According to reports, last year she had informed the authorities that she "feared for her life" and had complained about it to the police chief.
Nearly a dozen right-to-information activists have been killed and many others attacked in India since 2008.
The law allows Indians to access information held by the government.