Indian women win first Kabaddi World Cup championship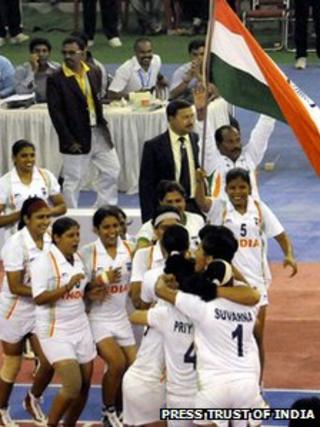 India has won the first women's Kabaddi World Cup championship, beating Iran 25-19 in a thrilling game played in Patna, in the state of Bihar.
India had the upper hand throughout the match and was 19-11 at half-time.
Kabaddi is a field sport which originated in India.
Two teams take turns to send a raider to the other's territory, or half, tag members of the opposing team, and return "home" without being blocked by defenders on the other side.
While he is "tagging" his opponents, the raider has to hold his breath and chant "kabaddi, kabaddi".
The final was played at the Patlipura sports complex on Sunday.
Earlier in the day, India beat Japan 60-21 while Iran defeated Thailand 46-26 in the semifinals to reach the final.