Sonia Gandhi returns to India after 'check-up'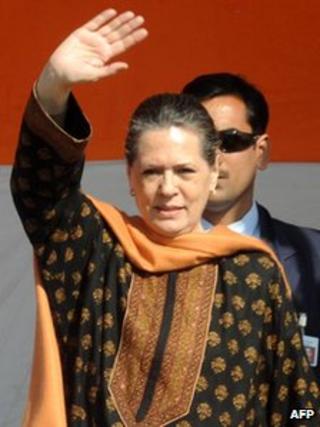 Sonia Gandhi, the head of India's governing Congress party, is "absolutely fine" after returning to India following a "routine check-up", a party official has said.
It follows surgery she had six months ago, also overseas, for an undisclosed medical condition.
The Congress party have refused to comment on her illness or where she has sought treatment.
Mrs Gandhi, 64, is seen as India's most powerful politician.
She holds no official post, but many consider her the de facto head of the government.
Media reports have suggested she was treated at a specialist cancer hospital in New York.
In recent months, Mrs Gandhi has been campaigning on behalf of Congress party candidates in crucial assembly elections in the northern state of Uttar Pradesh.
Her return to India comes one day before votes are counted in the multi-stage polls in that state, and four others.
The party is hoping to stage a comeback in Uttar Pradesh, India's most populous state, which is seen as a key indicator of how nationwide polls in 2014 might go.
Congress is hoping to rebuild its presence in the state, but voter surveys published in Indian media suggest it has not had the breakthrough it was hoping for.
Instead, most surveys indicate the left-leaning Samajwadi party might capture the most seats, though perhaps not enough for a majority.
Dynasty
Italian-born Mrs Gandhi is the widow of former Indian Prime Minister Rajiv Gandhi. She nominated Manmohan Singh to the prime minister's post in 2004 and is widely believed to be more powerful than him.
The powerful Nehru-Gandhi dynasty has ruled India for most of the time since the country gained independence from British colonial rule in 1947.
The news that Mrs Gandhi had gone abroad came as a complete surprise when it was first announced in August.
Some also wondered why she chose to go elsewhere for surgery when India has some of the best medical facilities and doctors in the world.
Some reports suggested she needed specialist treatment not yet available in India.
Others said Mrs Gandhi wanted to avoid the inevitable media circus that would engulf any Indian hospital where she sought treatment.