India cricket crisis provides opportunity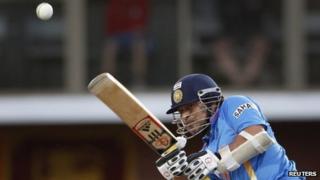 India's recent cricket failures provide the team with an opportunity to set things right - if they have the courage to take it, says sports writer Suresh Menon.
"Who will tell Sachin?" is the amusing new national obsession.
Less than a year ago, the same nation was willing "Sachin plus 10", as the Indian team was known in some circles, to win the World Cup. Everybody from Kapil Dev's driver to skipper Mahendra Singh Dhoni wanted India to "win for Sachin".
And when India finally won in April, Tendulkar was carried on the broadest shoulders among the new generation, those of Virat Kohli who then said in effect: "For so long has he been carrying us on his shoulders that we wanted to return the compliment."
Tendulkar may have overstayed his welcome in the shorter form of the game but - to get back to the question we started with - who will tell him that?
Weakness
He might still have a role to play in rebuilding Indian batting in Test cricket. It was believed that chief selector Krishnamachari Srikkanth being his first captain might just be the man to sit Tendulkar down and advise him.
But it did not happen. Tendulkar has decided to play in the Asia Cup in Dhaka where, hopefully he will make his quite meaningless 100th international century and re-focus on the present rather than on posterity.
Perhaps it is just as well that India did not win the tri-series in Australia. Victory is a universal solvent, dissipating such matters as team weaknesses, individual failures and sensible views about rebuilding and handing out pink slips.
Thanks to the consistent defeats over the last few months in England and Australia, even our thick-skinned cricket officials cannot pretend that all is well and that if you throw a few million dollars at the problem it will go away.
There is a genuine problem, but India do not leave the subcontinent for a few months thus enabling players to re-establish themselves. Sometimes it takes a crisis to set things right, and the players have provided just that.
The emergence of Virat Kohli has been the one real gain through all this doom and gloom.
By appointing him vice captain, the selectors have shown a rare spark of maturity and understanding, twin qualities that Kohli himself ought to acquire quickly.
That he was destined to lead India has been obvious for some time. That being the case, it would have been pointless, and even counter-productive to leave him dangling while other, older candidates were given their turn.
Lost opportunity
Gautam Gambhir, for instance, might feel aggrieved, but captaincy of a cricket team cannot always be age-bound or even seniority-bound.
Tiger Pataudi, by common consent India's best captain, was 21 when he got the job. He was the most junior member of the team he led, but although ten others might have felt aggrieved, that appointment served the larger interests of Indian cricket. Selectors have to use their judgement in these matters; if there was a formula, then we would not need selectors.
Still, a chance to experiment was lost with the decision to go with the same old faces for the Asia Cup.
Whether the cricket board's hands were forced by television - which seems to call the shots these days - is difficult to tell.
Perhaps it was simply the desire to win a title, even a localised one, to make up for honour lost outside the subcontinent. After all, it is not just the players - even selectors rise and fall by victory and defeat.
The tours to England and Australia will be forgotten with amazing speed if India win the Asia Cup. Then it will be up to the next lot of selectors to lift the carpet and identify the stuff swept under it. That is the Indian way.
Sports writer Suresh Menon has written books on Sachin Tendulkar and Bishan Bedi.