India Samajwadi Party to meet to elect chief minister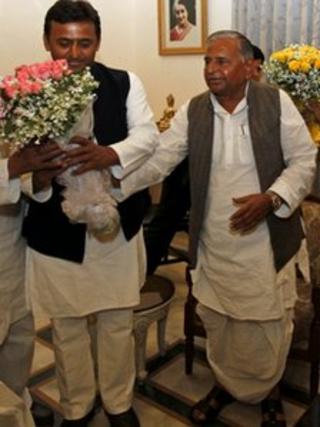 The regional Samajwadi Party, which has swept the elections in the politically crucial Indian state of Uttar Pradesh, has called a meeting on Saturday to elect the new chief minister.
Party leaders have publicly said that three-time chief minister Mulayam Singh Yadav will be the next chief minister.
But, there is a growing demand to appoint Mr Yadav's son, Akhilesh.
Akhilesh Yadav has been widely credited with the party's fantastic performance in the polls.
He himself has repeatedly said that his father will be the next chief minister.
But Mulayam Singh Yadav, 72, is suffering from various ailments and wants his son to take over, reports say.
On Wednesday evening, the two met the state Governor BL Joshi, who invited them to form the government.
Samajwadi Party leaders met the governor after Dalit icon Mayawati quit as the chief minister after her party's poor showing in the elections.
She said as the results did not favour her party, she had recommended to the governor to dissolve the assembly.
The Samajwadi Party took 224 seats out of the 403 in the legislative assembly, while Ms Mayawati's Bahujan Samaj Party was a distant second with 80 seats.