India Congress party to form Uttarakhand government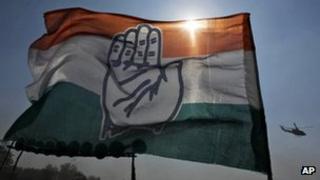 India's governing Congress party says it has enough numbers to form a new government in Uttarakhand state.
Senior party leaders in the state met the governor in the capital, Dehradun, on Friday and staked their claim.
Of the total 70 seats in the state, Congress party won 32 - which was four short of a majority.
But now the party has won support from three independent legislators and a member of the regional Uttarakhand Kranti Dal party.
Voting was held in the state on 30 January and results were declared on 6 March.
Congress party leader in Uttarakhand Yashpal Arya said they had submitted "letters of support from all three independent legislators and a lone legislators from the Uttarakhand Kranti Dal" to Governor Margaret Alva.
The four legislators were also "physically paraded" before the governor by the Congress, Press Trust of India reported.
Congress won 32 seats in the assembly elections while the opposition Bharatiya Janata Party got 31 seats.
The state elections were held as part of assembly polls in five states, including in the politically crucial state of Uttar Pradesh.