India allows traders to export pre-ban cotton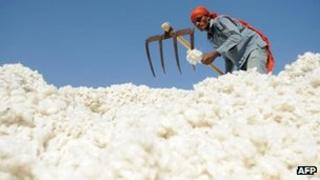 India's commerce ministry says it will allow traders to ship out cotton that was cleared for export before 4 March.
The ministry announced a blanket ban on Monday to ensure supplies for domestic mills amid a jump in overseas sales.
The prime minister ordered a review after protests from the farm ministry.
Disease has damaged cotton crops in several Indian states, cutting yields. Exports have been higher than expected because of strong demand from China.
India is the world's second-largest producer and exporter of cotton. International cotton prices rose after the ban was announced.
China's cotton industry, which takes about 80% of Indian production, criticised India's decision, saying it was "irresponsible" and would disrupt the global market.
The decision comes ahead of an Indian government meeting to discuss the ban.
Dhiren N Sheth, president of the Cotton Association of India, told the BBC that Friday's order would affect "a very small quantity of cotton" as only those shipments which had been cleared by customs authorities by last Sunday would be allowed to proceed.
He described as incorrect reports that up to 2.5m bales of cotton could leave India because of the commerce ministry decision, suggesting the real figure was only several hundred thousand.
The commerce ministry ban came after Indian textile makers expressed concerns about shortages and high prices.
But on Tuesday, Agriculture Minister Sharad Pawar wrote to the prime minister seeking to lift the ban, saying production was higher this year and farmers were complaining of falling prices.
The chief minister of Gujarat, Narendra Modi, also wrote to Mr Singh asking why the decision had been taken without consulting "affected" states. Gujarat is one of India's leading cotton-producing areas.
India has already exported 8.5m bales of cotton - each weighing 170kg (375lb) - in the financial year ending on 31 March, reports say, up from a government estimate of 8.4m bales made in January.