India's parliament begins crucial budget session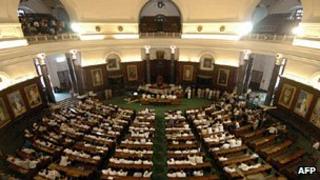 The Indian parliament has begun a critical session on the nation's budget with President Pratibha Patil addressing a joint session.
The focus of the session will be on the economy with the finance minister due to present the budget on Friday.
Analysts say political issues are also likely to impact the proceedings over the coming days.
The Congress party-led government has been weakened due to its poor showing in recent elections in five states.
The Indian budget is generally presented on the last day of February but this year it was delayed because of the polls in Uttar Pradesh, Punjab, Uttarakhand, Manipur and Goa.
During the course of the week, the railway budget will be presented and the central bank is due to unveil the credit policy review intended to address the economic slowdown.
'Challenges'
In her address to the parliament, Mrs Patil said India's economy was faring much better than the rest of the world.
But she added that there had been a decline in economic performance and there were challenges before the government.
Over the last few months, the Congress-led government has been weakened by a string of corruption allegations and its poor performance in the state elections - particularly in the politically crucial state of Uttar Pradesh - is likely to add to its woes in the session.
The last session of parliament was adjourned in December amid chaos over the issue of the controversial anti-corruption Lokpal bill.
The bill, which empowers an independent ombudsman to prosecute politicians and civil servants, was passed in the lower house, but failed to get through in the upper house of parliament, which adjourned without a vote.
The bill may be taken up again in the budget session.
Leading anti-corruption campaigner Anna Hazare has been campaigning for a strong bill to be passed in parliament.
His hunger-strike in Delhi in August almost brought the government to its knees.
He started another hunger strike in December but called it off and threatened instead to launch a campaign of civil disobedience that would fill the country's jails.
A recent survey said corruption in India had cost billions of dollars and threatened to derail growth.