India maintains ban on cotton exports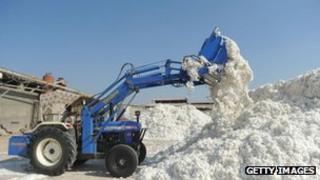 The Indian government has clarified that a ban on cotton exports remains, but cotton already registered for shipment will be allowed to go.
No new export registration certificates will be issued until a review is held within two weeks, trade officials said.
It comes a day after Trade Minister Anand Sharma said the ban, imposed last week, would be reversed, after farmers and overseas cotton buyers complained.
India is the world's second largest producer and exporter of cotton.
Analysts have said the confusion over India's policy would damage the country's standing as a reliable supplier of cotton.
Exporters had outstanding orders for 2.5 million bales of cotton when the ban, which took immediate effect, was imposed on 5 March.
Exports had already hit the higher-than-expected level of 9.5 million bales and, at the time, officials at the textile ministry said the ban was needed due to "the trend of domestic consumption and depletion of domestic availability".
There was an angry reaction from farmers and China, which imports much of India's surplus production and is the world's biggest cotton buyer. It said the ban was "irresponsible".
The government justified the ban by saying that India needed to protect supplies for its own cotton mills, amid a decline in production and higher-than-expected exports.
The reversal of the ban is the latest policy mishap for the government. Last December a major reform of the retail industry was abandoned due to public opposition.