Mayawati to run for Indian parliament's upper house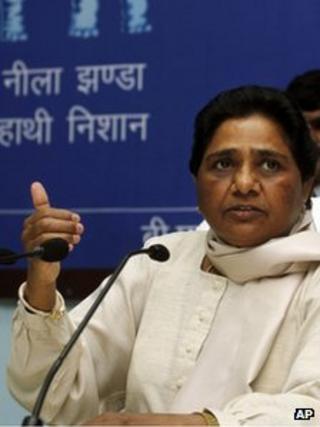 India's low-caste Dalit icon Mayawati is preparing to run for the Rajya Sabha, the upper house of parliament.
Ms Mayawati recently quit as the chief minister of Uttar Pradesh state after her party's poor showing in crucial assembly elections there.
She filed her nomination papers in the state capital, Lucknow. Voting is due to be held on 30 March.
Rajya Sabha MPs are elected by state legislative assembly members and their term is for six years.
Fifty-eight members to the 250-seat Rajya Sabha are up for election across the country.
Controversial
Last week, Ms Mayawati resigned as the chief minister of India's most populous state, saying the results did not favour her party.
The regional Samajwadi Party took 224 seats out of the 403 in Uttar Pradesh's legislative assembly, while Ms Mayawati's Bahujan Samaj Party was a distant second with 80 seats.
Ms Mayawati is a controversial politician who is famous for building statues of herself and other figures from the Dalit community.
A large numbers of statues commissioned by Ms Mayawati can be seen in Lucknow and other towns and cities of Uttar Pradesh.
In the run-up to the polls, the election commission ordered the statues and symbols to be draped. They were unveiled once the polls were completed on 3 March.
In September, leaked US diplomatic cables said Ms Mayawati had sent an empty private jet to fetch a pair of sandals from Mumbai - a charge she strongly denied.