India cricketer Yuvraj Singh cancer therapy almost over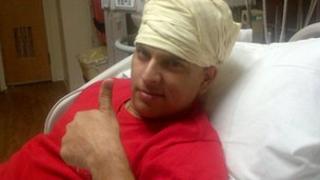 Indian cricketer Yuvraj Singh has tweeted he has just "4 mor dys to go" of his cancer treatment.
The cricketer posted a picture of himself in a hospital bed giving a thumbs up.
Yuvraj is undergoing chemotherapy in the US for a rare, but curable, cancer.
His health first deteriorated during the World Cup last year, in which he was the man of the tournament, helping India win the trophy for the first time since 1983.
"My last stretch 4 mor dys to go Can't wait fr it to end Set me free dear lord," wrote Yuvraj on Twitter.
Earlier in his treatment Yuvraj tweeted that he was feeling "better" after receiving a message of support from cycling legend Lance Armstrong.
Armstrong, who was treated for testicular cancer, runs a foundation for cancer survivors.
The 30-year-old Yuvraj is being treated for a rare form of cancer called seminoma.