Six charged in India over Delhi High Court blast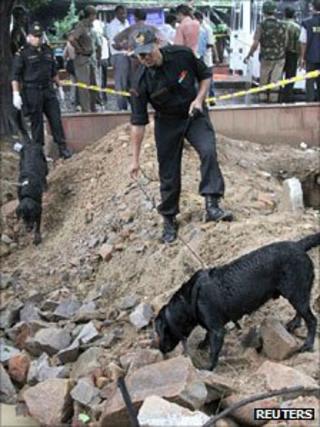 India's National Investigation Agency has filed charges against six people in connection with last September's blast at the Delhi High Court which killed 17 people and injured more than 90 others.
Charges, running to 1,062 pages, were filed in the court of District Judge HS Sharma.
Those charged include Amir Abbas Dev, Wasim Akram Malik, a minor and three others who have not been arrested.
The bomb was placed in a case near the first security checkpoint at the court.
It went off as people were queuing for passes.
It is not yet known what the six accused have been charged with.
The blast at the high court was the second to target the building in five months and came despite a state of high alert across the city.
A 20-member team of the federal National Investigation Agency was set up to investigate the attack.
An email reportedly sent by the radical group Harkat-ul Jihad al-Islami (Huji) claimed it planted the bomb.
The US State Department says Huji is a terrorist group with links to al-Qaeda. Huji has been accused of carrying out attacks in India, Pakistan and Bangladesh.
But a second email claiming to have carried out the attack, purportedly sent by the Indian Mujahideen, claimed Huji had not planted the bomb.