India politics: Parkash Singh Badal is Punjab's new chief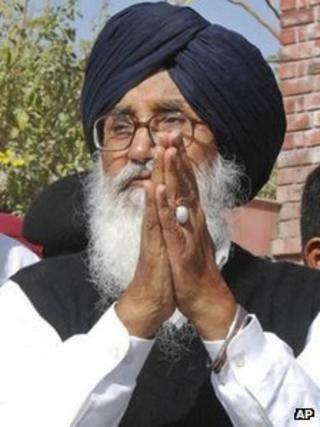 The leader of the regional Shiromani Akali Dal (SAD) party, Parkash Singh Badal, has been sworn-in as the chief minister of the northern Indian state of Punjab for a record fifth time.
Seventeen other ministers, including his son Sukhbir Singh Badal, have also been sworn-in.
Mr Badal junior will act as the deputy chief minister.
Mr Badal, 85, contested the elections in alliance with the Bharatiya Janata Party (BJP).
The SAD-BJP alliance won 68 of the state's 117 seats while the opposition Congress got only 46 seats.
The Congress party, which is heading the national government, also suffered a major setback in elections in the politically crucial state of Uttar Pradesh - India's most populous.
The polls, held in five states, were seen as a litmus test for national elections due by 2014.