India's Akhilesh Yadav 'to boycott' Rushdie conference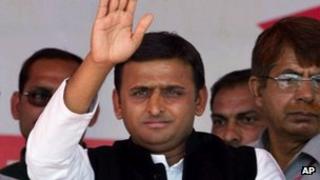 New Uttar Pradesh Chief Minister Akhilesh Yadav has said that "official engagements" will stop him from attending a conference where Sir Salman Rushdie is one of the speakers.
Mr Yadav's announcement follows the decision of Pakistani politician Imran Khan to withdraw from the conference.
Mr Khan had said the author had "caused immeasurable hurt to Muslims".
Sir Salman, who wrote The Satanic Verses, was due to address the gathering in the capital, Delhi, on Friday.
Many Muslims regard The Satanic Verses as blasphemous. The book, published in 1988, is still banned in India.
Mr Yadav's Samajwadi Party won a thumping majority in recent elections in UP. It derives its strength from lower caste people and Muslims.
Uttar Pradesh is a state which has a significant Muslim population.
Mr Yadav was due to address the conference on young leadership.
Protests galore
According to the India Today Conclave website, Sir Salman is due to speak for an hour.
The organisers have declined to confirm reports that the author will be physically present.
His event is entitled "The Liberty Verses - I am What I am and That's All That I am". It will be moderated by author Aatish Taseer.
Earlier, a statement released by Mr Khan's Pakistan Movement for Justice party cancelled his participation in the conference organised by the India Today media group on learning of Sir Salman's participation.
"He expressed his regrets to the organisers but stated categorically that he could not even think of participating in any programme that included [Salman] Rushdie who has caused immeasurable hurt to Muslims around the globe," the statement said.
The statement said Mr Khan had "received and seen" the programme on Tuesday evening, and took the decision soon after.
In January, Sir Salman withdrew from attending the Jaipur Literature Festival, saying that sources had told him of a death threat.
He was also forced to abandon plans to address the gathering by a video-link after protesters threatened to march on the venue.