Bengali actor Soumitra Chatterjee wins top film award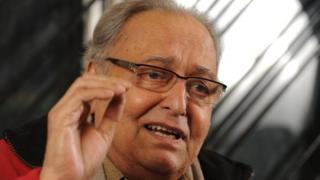 Indian actor Soumitra Chatterjee says he is "extremely happy" to have been awarded the Dada Saheb Phalke award, the highest honour in Indian cinema.
Chatterjee, 77, who works in the Bengali film industry, was the favourite of India's Oscar-winning film-maker Satyajit Ray and acted in 15 of his films.
He made his debut with Ray's Apur Sansar (Apu's Family) in 1959.
The actor also directs and acts in plays and writes poetry.
Chatterjee had turned down a state award for best actor in 2001 to protest against what he called the "bias" of the awards committee in selecting their choices.
"I am happy and feeling good. At least this award is away from any competitive politics. I have been working for more than 50 years and I feel really happy that my work has been recognised," Chatterjee told the Press Trust of India news agency.
Chatterjee also acted in several other of Ray's masterpieces like Devi, Charulata and Ghare Baire.
"Satyajit Ray made me what I am today. Had the director not been a great artist like Satyajit Ray, I wouldn't have been able to perform so well," Chatterjee said.
Chatterjee, who lives and works out of Calcutta, has also worked with leading Indian directors like Tapan Sinha and Mrinal Sen.