Kashmir blast: One dead and many hurt south of Srinagar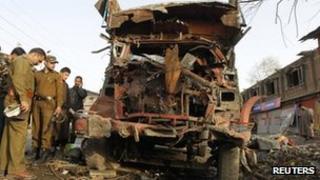 At least one person has been killed and 25 others critically wounded in a blast south of Srinagar in Indian-administered Kashmir, officials say.
The explosion took place in the town of Bijbehara 50km (31 miles) south of the summer capital on Thursday evening.
Police say the dead man was the car's driver, who may have been heading for a "suicide attack" against a security target. No group has claimed the blast.
Other officials said militants may have been moving a bomb that blew up.
"He is beyond recognition. His body parts were scattered across the road," police officials told the BBC, referring to the driver.
Eyewitnesses said the explosion in Anantnag district shook the street, blowing out windows in many nearby houses.
Police say the car was travelling towards Srinagar. The Indian army's 15 Corps is headquartered on the highway and there are several other army camps.
The 15 Corps camp has been the target of suicide bombers in the past.
In one such attack in November 1999 several soldiers including an officer were killed.
"Since it was a moving car we can't conclude anything. It could also be someone transporting explosives which went off," a top army official told the BBC.
Muslim-majority Indian-administered Kashmir has been the scene of a bloody separatist insurgency against Indian rule since 1989.
The BBC's Riyaz Masroor in Srinagar says there has been little or no violence recently in the state. But India's Chief of Army Staff Gen VK Singh recently said "terrorism is not over in Kashmir".