India activist Anna Hazare threatens new protest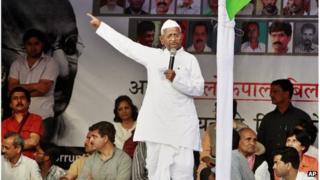 Leading Indian anti-corruption activist Anna Hazare has said he would launch a protest in August if the government did not investigate "allegations of corruption" against 14 ministers.
Mr Hazare made the announcement during a fast on Sunday to protest against the killings of several whistle-blowers.
He has been campaigning for a strong anti-corruption bill.
Mr Hazare's hunger strike in Delhi last August almost brought the government to its knees.
He started another hunger strike in December but called it off and threatened instead to launch a campaign of civil disobedience that would fill the country's jails.
The Lokpal bill has passed in the lower house of parliament but the upper house adjourned amid chaos in December without passing the controversial legislation.
It would empower an independent ombudsman to prosecute politicians and civil servants suspected of corruption.
'Dumb and deaf'
Arvind Kejriwal, one of Mr Hazare's key aides, named 14 senior cabinet ministers during a public meeting on Sunday and said that cases would be registered "against all of them" if India had a strong anti-corruption ombudsman.
Mr Hazare told the meeting that the government would face a defeat in the 2014 general elections if it failed to pass a strong anti-corruption law in the parliament.
"Bring Lokpal or go out of power in 2014 general elections," he said.
Mr Hazare said a number of whistle-blowers who had complained against corruption had been murdered, and the government was not doing anything to bring the culprits to book.
In the last four years, over a dozen people who dared to ask uncomfortable questions under the country's Right to Information law have been killed, and scores of such information seekers have been attacked across the country.
"Their [whistle-blowers'] mothers, their children, their fathers, their wives are crying for justice. But this government has gone dumb and deaf. It is not listening to the cries of people," he said.
Last week Prime Minister Manmohan Singh told leaders of political parties that he is committed to finding a consensus on an anti-corruption bill.
Reports say the bill may be taken up again in the current budget session.
A recent survey said corruption in India had cost billions of dollars and threatened to derail growth.