India police rescue teenage servant locked in apartment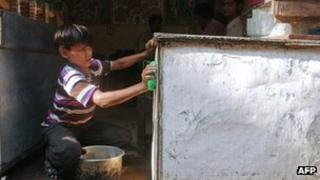 A teenager working as a domestic servant in the Indian capital, Delhi, has been rescued three days after her employers locked her in and went on holiday to Thailand, reports say.
The 13-year-old was rescued from a second-floor apartment in the city's Dwarka district on Thursday.
Neighbours alerted police and activists after they heard the girl crying and screaming for help from the balcony.
In 2006, India banned children under 14 from working as domestic servants.
But activists say the ban is regularly flouted and millions of children continue to work as domestic help.
Many are also employed illegally in other jobs, including hazardous industries.
Police said the girl was locked in the apartment without any food and had been starving.
She alleged that she had not been paid for three months, police said.
The girl was taken for a medical check up and later sent to a government shelter.
Unicef says there are 35 million child labourers in India.