Hindu temple in India receives record one-day donations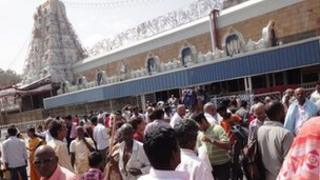 One of India's richest Hindu temples has collected 57.3m rupees ($1.1m; 702,000) in donations on one day - the most ever in its history.
This was in spite of turnout being lower than usual for Sunday's festival of Ramnavami because of school exams.
The coffers of Venkateswara Temple in the southern state of Andhra Pradesh were boosted by a single donation of 20m rupees, said temple officials.
The Hindu shrine has an annual income of $340m - most of it from donations.
Between 50-100,000 pilgrims visit the temple on a daily basis with the numbers rising on the more auspicious Hindu festival days.
A single anonymous donation from a devotee in the capital Delhi is the reason for the record amount collected.
"This is the highest collection ever in Tirumala Tirupati Devasthanams's history," Bommireddy Sharada, a collector at the temple, told The Times of India newspaper.
The Tirumala Tirupati Devasthanams is the board that oversees and manages the Temple.
Offerings made by the 70,000 devotees to the temple on Sunday included cash, jewellery, silver and gold.