Indian families say Punjab compensation inadequate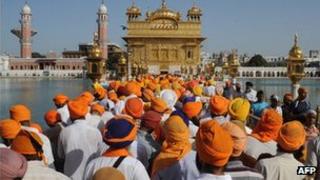 Families of victims killed by police in the Indian state of Punjab during a separatist insurgency say compensation just awarded is "too little, too late".
The National Human Rights Commission has announced that 279.4m rupees ($5.5m; £3.4m) be paid to the families of 1,513 victims killed from 1984-96.
The extra-judicial killings took place at the peak of Sikh militancy for a separate homeland of Khalistan.
The commission investigated 2,097 cases but many bodies were unidentified.
'Cremations Case'
"The families have waited years and this amount of monetary compensation is not enough," Navkiran Singh, a lawyer for one of the families, told the BBC.
"The courts have not answered the question of culpability of the police officers who killed the people and disposed of the bodies," added Mr Singh.
Mr Singh represents Paramjit Kaur Khalsa, whose husband was killed at that time.
He said the courts believed the police were carrying out "their national duty" while fighting Sikh insurgents.
The state has to pay the money, yet "no process of rehabilitation has been started for victims of the police killings," said Mr Singh.
The families feel this is discriminatory as victims of militants have already been given compensation by the state.
The commission also found human rights violations in many of the killings in the three districts of Amritsar, Manjitha and Tarn Taran that it investigated.
Mr Singh said they will now send an application to Punjab's chief minister for the state to rehabilitate the families since the commission has recognised they are also "victims of injustice".
Otherwise he said the state is giving the families "a reason to pick up the gun again".
The NHRC is investigating what has become known as The Cremations Case.
While the official figure for the number of people killed during the violent insurgency from 1984-1996 is 15,000, many human rights groups claim it is much higher and could be more than 25,000.