India cricketer Yuvraj Singh 'delighted' to be home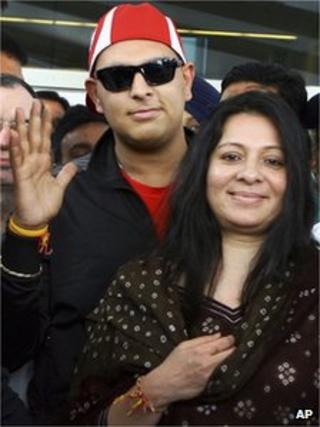 Cricketer Yuvraj Singh, who underwent treatment for cancer in the US, has said he is "delighted" to be back home after "going through a tough time".
Yuvraj returned to India after three months on Monday.
He underwent chemotherapy at a hospital in Indianapolis. Doctors say Yuvraj, 30, is expected to make a full recovery and resume his cricket career.
His health deteriorated during the World Cup last year, which India won for the first time since 1983.
He was diagnosed with a rare form of cancer, called mediastinal seminoma.
Yuvraj spent a couple of weeks recuperating in London after finishing his treatment in the US.
"I am back and absolutely delighted to be here. Being away from home for the past few months, I have gone through a tough time," he wrote in The Times of India newspaper.
"But all's well that ends well. That's behind me and I am really looking forward to spend some quality time at home which includes catching up with friends and having some home food."
Yuvraj said he wanted to "live a normal person's life before getting back in the grind of cricket".
"I have missed India and all that comes with it," he said.
Yuvraj played his last international match in November 2011.
He was the man of the tournament in last year's World Cup, helping his country win the trophy for the first time since 1983.
"I'll be back to normal health soon and look forward to playing for India," Yuvraj said in a video message to his fans last week.