India army chief VK Singh lodges bribe complaint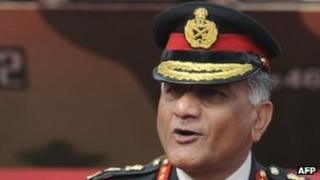 India's army chief Gen VK Singh has lodged a complaint with federal detectives over his allegation that he was offered a bribe of $2.7m (£1.7m) by a defence equipment lobbyist.
The PTI news agency said Gen Singh had also handed over some documents to the Central Bureau of Investigation (CBI).
Gen Singh had said the bribe was offered to make him clear the purchase of 600 "sub-standard" vehicles.
There has been an uproar in the parliament over Gen Singh's remarks.
Last month Defence Minister AK Antony said the CBI - India's top investigation agency - would investigate Gen Singh's complaint, which he made to The Hindu newspaper.
He told parliament that Gen Singh told him a retired lieutenant-general, Tejinder Singh, had met him and offered him a bribe.
'Standards falling'
Lt Gen Singh has vehemently denied the charges, saying the accusations are "totally false" and that he will take legal action.
Unnamed CBI officials were quoted by PTI as saying as the complaint lodged by Gen VK Singh on Tuesday was "highly sensitive and confidential" and could not be made public.
Gen Singh told the The Hindu that the lobbyist offered the bribe in return for approving the purchase of 600 "sub-standard" vehicles of a "particular make".
He said he had immediately reported the matter to the defence minister, Mr Antony.
Gen Singh did not say when the alleged incident happened.
He said the incident proved that "obviously somewhere our standards of probity and integrity have fallen".
Gen Singh has already been involved in a row with the government over his retirement age.
He went to the Supreme Court seeking a ruling to establish his date of birth as 10 May 1951 - as his birth certificate and other official documents record.
Last month he dropped his case against the government after the Supreme Court said it had found no error or prejudice in the government's and army's setting of the date a year earlier, on 10 May 1950.
The date of birth determines whether the general retires this year or next.
He said the army already had 7,000 of the vehicles in question and many had been sold at "exorbitant prices with no questions asked".