India's Yuvraj Singh hopes to return to the game soon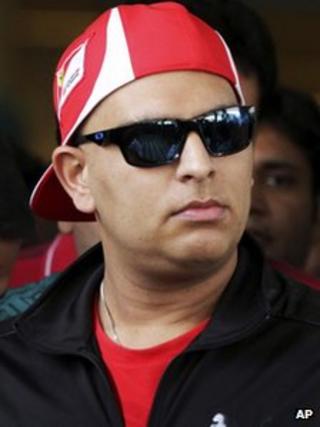 Cricketer Yuvraj Singh, who underwent treatment for cancer in the US, has said he hopes to be in a fit "mental and physical condition" to return to the game in a few months.
Yuvraj returned to India after three months on Monday.
He underwent chemotherapy at a hospital in Indianapolis. Doctors say Yuvraj, 30, is expected to make a full recovery and resume his cricket career.
He was diagnosed with a rare form of cancer, called mediastinal seminoma.
Yuvraj spent a couple of weeks recuperating in London after finishing his treatment in the US.
"I am happy to be back. In a couple of months I should be in mental and physical health to be back on the field," Yuvraj told reporters in the Indian capital, Delhi, on Wednesday.
It was his first press conference since his return from the US.
However, he said it would not be "easy to get back on the field soon".
'Tough job'
"It will take time, my body will take time. At the moment, it is very important for me to take care of my health, be on a good diet and focus totally on my health," Yuvraj said.
"To return to the field with all the pressure of playing for India will be a big achievement. My body has to recuperate. I am going to work hard towards it. I want to wear the Indian cap again. I am convinced I will be back playing for India."
Yuvraj spoke about his treatment and said he had recovered well.
"Chemotherapy leads to hair loss, body ache, depression. I knew about it and I felt if I had to recover then I would have to go through it," he said.
"Just getting up and doing something was a tough job. It was difficult to even get out of the house. After a couple of times, even going to the gym was difficult. I walked a bit, played video games, watched movies, learnt some cooking."
Yuvraj said he missed playing for his team, Pune Warriors, in the ongoing Indian Premier League cricket tournament.
"I want to go out, wear a team T-shirt and watch a few IPL games. I don't know when I can go though."
Dr Nitesh Rohatgi, who accompanied Yuvraj at the press conference, said the cricketer would begin exercising "after some weeks".
He said the cricketer was not on medication, and the chances of relapse were low.
Yuvraj played his last international match in November 2011.
He was the man of the tournament in last year's World Cup, helping his country win the trophy for the first time since 1983.