India swine flu 'under control'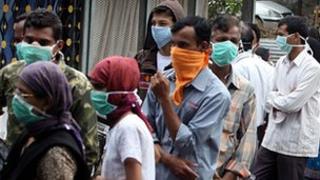 India's health ministry has said the current swine flu outbreak "is well under control" and there is "no reason to panic".
The death toll in the outbreak in India since the beginning of March has risen above 20.
More than 300 other people have been infected with the virus, with many of them admitted to hospitals.
The cause of the sudden outbreak is not clear. The virus killed more than 450 Indians when it first emerged in 2009.
While declaring the pandemic to be over in August 2010, the World Health Organisation (WHO) had reported that the swine flu (H1N1) virus "would take on the behaviour of seasonal influenza virus and continue to circulate for some years to come," the health ministry said in a statement.
Hence, local swine flu outbreaks with "significant level of H1N1 transmission are expected," the release said.
India experienced "major outbreaks" of the flu between August and September 2010 and again from May to July in 2011.
The ministry said there was an "increased number of cases" of swine flu in March and April this year, mainly in the states of Andhra Pradesh, Maharashtra, Rajasthan, Karnataka and Tamil Nadu.
"Small pockets of population who remained unexposed to the pandemic and susceptible would be affected," the statement said.
Transmission was already on the decline with only 10% of the samples being tested at India's National Institute of Virology testing positive for the virus, down from 30% in the first week of March, the statement said.
More than 450 people died of swine flu in India when it first broke out in 2009. More than 13,000 people were infected with the virus.
The states with the highest number of swine flu deaths in 2009 included Maharashtra, Karnataka and Gujarat.
The virus is thought to have killed more than 1,200 people around the world.
The H1N1 virus first emerged in Mexico in April 2009 and has since spread to many countries.