India Maoists release Italian hostage Paolo Bosusco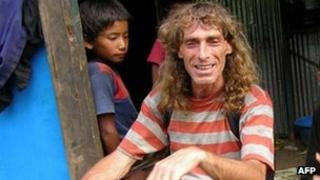 Italian hostage Paolo Bosusco has been freed by India's Maoist rebels after nearly a month in captivity.
Mr Bosusco, 54, was abducted on 14 March, along with fellow Italian Claudio Colangelo, 61, while trekking in a tribal area of Orissa state. Mr Colangelo was released on 25 March.
The exact terms of the release are not known but on Tuesday a court freed the wife of Maoist leader Sabyasachi Panda.
She was one of several jailed rebels whose release the Maoists had demanded.
State legislator Jhina Hikaka, who was seized on 23 March by another group of Maoists, remains in custody.
'Special place'
After his release, Mr Bosusco was brought to the state capital, Bhubaneswar. He said he had been treated well by the rebels.
"Orissa will always have a special place in my heart. I am grateful for all the love and affection showered on me during my nearly 22 years' stay here.
"I will have to return to Italy now, I do not know if I will come back here again. But the state and its people will never be far away from my mind and heart."
Mr Bosusco earlier said he had visited the area where he was held many times in the past.
"But going there as a tourist is different from going there as a hostage," he said.
On Thursday morning, the rebels handed over Mr Bosusco to Dandapani Mohanty, one of the mediators, who brought him to Bhubaneswar.
He was taken to the state guest house where he met Italian and Indian officials.
"The state government is relieved that the second Italian hostage, Mr Bosusco, has been released," Orissa Chief Minister Naveen Patnaik said.
"However, our young tribal legislator [Jhina Hikaka] is still in the custody of the Maoists who abducted him several days ago in Koraput district.
"I appeal to the Maoists to release him immediately, unhurt and in good health. I am sure all of you understand the deep anxiety of his young wife and his entire family who await his return as do we, the state government."
The Maoists have a strong presence in several eastern states, including Orissa, and have been described by Prime Minister Manmohan Singh as India's biggest internal security threat.
The rebels say they are fighting for a communist state and for the rights of tribal people and the rural poor.