Indian helicopter moved from Bangalore roof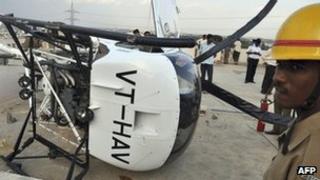 A helicopter that made an emergency landing on the roof of an apartment block in the Indian city of Bangalore has been removed from the building.
The aircraft was dismantled and the parts moved by a crane onto a lorry.
The helicopter was on a training flight on Thursday when its engine failed, forcing it down.
It has been taken to a hangar to be examined as part of an investigation by the aviation regulator, the Directorate General of Civil Aviation.
The helicopter belongs to the state-run Hindustan Aeronautics Limited (Hal) and was flying out of a nearby airport when the emergency occurred.
Eyewitnesses said they heard a loud noise when the helicopter began its descent and everyone gathered on rooftops to watch.
Reports quoted the pilot, Rodj Assey, as saying that he exercised the "only possible option in that area" by landing on the roof of the five-storey Maitree Apartments building.
No one was injured in the accident.
The helicopter tumbled on its side on landing, damaging the rotor blades.
Most of its instruments would be in a usable condition, Hal chief test pilot Wing Commander Unni Pillai told the BBC.