London 2012: Why Indian boxers could shine at Olympics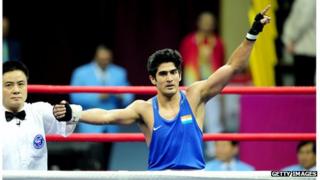 When Vijender Singh returned with a bronze from the 2008 Beijing Olympics, many Indians believed it was a flash in the pan.
He must have had a favourable draw, they said, because, really, an Olympic medal in boxing?
Wrestling, perhaps. Shooting too. But boxing?
Then, soon after, Vijender also won a World Championships bronze and reached the world number one ranking in his middleweight category.
This time, Indians gave him the credit he was due. At the same time, they put it down to one good boxer making a difference.
All of a sudden, in the quadrennial pre-Olympic rush, when the men make the cut and the boys fall by the wayside, we find out that seven, yes seven, Indian men have qualified for the London Games.
Plan in place
Four years ago this was unimaginable.
Yet, for the past six or seven years, I have been observing a serious raising of the bar in Indian boxing.
There was a plan in place. There were established role models. Money was coming in. Things could only get better.
But how much better? This much? No, I did not anticipate such a large boxing contingent for London.
Yes, Vijender was always going to qualify. I had my money riding on Akhil Kumar as well, the quarter finalist from 2008, who fluffed his lines after increasing his weight for World Series Boxing and then failing to whittle it back to his preferred 57kg in time for the qualifiers.
I also had high hopes of Vikas Krishan (60kg), Shiva Thapa (56kg) and Devendro Singh (49kg), all of whom have qualified.
But now we also have Jai Bhagwan (60kg), Manoj Kumar (64kg) and Sumit Sangwan (81kg) in the mix. Suranjoy Singh (52kg) would have been a cinch to qualify too, but an injured shoulder meant he wouldn't be in shape in time.
But seven men will be there - two more than ever before.
More importantly, by my calculations, at least three of them - Vikas, Shiva and Vijender - are serious medal contenders. And frankly, unlike in the US or China or Australia, here in India we do not care about the colour of the medal at the Olympics.
All right then, shock and awe expressed, I will now briefly explain the metamorphosis of the boxing scene here.
There is a long-winded explanation, and there is a short, one-word version: Haryana, the northern Indian state.
The Indian sport establishment woke up to Haryana in 2010, when in the Commonwealth Games in Delhi, India finished second on the table.
A whopping 40% of the medals India won went to athletes from Haryana. A feat that is simply explained: a spot of very smart thinking that addressed the crux of the matter - poverty. Or, rather, jobs.
India is not a "sporting" nation.
Cricket? Sure. But what is that worth on the global stage, or in the Olympic arena?
Beyond cricket, you have privileged youngsters taking to golf, tennis, shooting or chess.
Outside these sports, though, there is only one reason why youngsters take to sport - call it money, jobs or security.
Incentives
And so it is that children from poor backgrounds have been picking up one Olympic sport or the other, because government rules dictate that moderate success in that sport makes the athlete eligible for a government job in the railways, police, the armed forces and so on.
It is not a bad way to carve out a decent life. You do not need to win an international competition to get there; a national championship is good enough. And once the job falls in place, more often than not, the hunger is satiated, the desire diminished. Glory is not the objective, two square meals a day is.
The Haryana government, a few years ago, put together a policy that did not just offer respectable jobs to achievers, but also had a system of incentives in place to encourage athletes to strive harder.
Also on offer were unheard of sums of money if the athlete kept bringing home the booty.
RS Dalal, chief of Haryana police, was the chief of the Indian Boxing Federation when Haryana politician Abhay Chautala took charge of the sport back in 2000.
Mr Dalal recently told me how a representative of the state's ruling Congress party first suggested to him that an athlete that does well internationally deserves better than the position of, say, a constable in the Haryana police.
Certainly, Mr Dalal said. How about sub-inspector, he suggested? No, no, Mr Dalal was told; let's start with the rank of deputy superintendent of police. Along with cash awards like 2.5 million rupees ($48,000; £30,000) for reaching the quarter finals of the Olympics or World Championships.
Deputy superintendent of police is big. Vijender is one, courtesy the Olympic bronze from 2008.
His last job was as ticket-checker with Indian Railways in Jaipur, Rajasthan. Today, he drives a Toyota Etios, endorses Nike, has built his family a palace of sorts in his nondescript native village of Kaluwas and lives in a plush apartment with his wife in the posh Delhi suburb of Gurgaon.
Gold prospects
The lesser stars aren't faring too badly either. Almost all of them have secure jobs at the moment. The directive is simple. Just go out there, train hard, fight hard, do well. If you do, you don't have to worry about the future.
A complex set of circumstances and coincidences have led to boxing being administered with a fair degree of professionalism.
Yes, the usual "isms" that ail Indian sport - favouritism, nepotism, and the like - do exist.
But there is some good work happening alongside. A good deal of it in Haryana.
The list of seven men in the 2012 Olympics contingent includes five from Haryana. Devendro from Manipur and Shiva from Assam are the exceptions.
Also, we must not forget here the two private organisations that are doing stellar work in the area - Mittal Champions Trust and Olympic Gold Quest.
The two are bringing in money, selecting athletes and supporting them financially and in terms of infrastructure. They are essentially filling in the big holes left by the administrators.
This year, India could have a gold haul - tough, yes, but not impossible. It's not unthinkable that the Indian boxers could win three medals at the London Olympics.
And we haven't even considered the women yet. MC Mary Kom (51kg) - five-time world champion. Sarita Devi (60kg) - former world champion. Is there someone who can beat them in the first ever outing for women's boxing at the Olympics? Unlikely.
Think of what this clutch of medals might mean then.
And remember, India's best showing at an Olympics to date is just three medals: one gold and two bronzes in 2008.
The boxers - men and women together - alone can knock that statistic out come August 2012.
Shamya Dasgupta is Senior Editor with Wisden India. His book Bhiwani Junction - The Inside Story of Boxing in India, published by HarperCollins India, is due out in June.