Bollywood actor Aamir Khan set for TV debut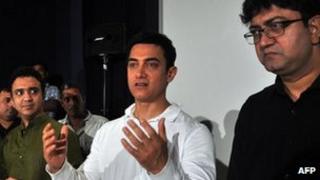 Bollywood actor and director Aamir Khan is to make his television debut in a weekly chat show, starting 6 May.
Khan will front Satyamev Jayate - The Truth Alone Prevails. The talk show will tell stories of real people across India, he told reporters.
It marks a change of direction for Khan, who is best known for tackling social issues and gritty subjects as an actor, film producer and director.
Khan is one of India's most successful and popular actors.
He has starred in many films, including Lagaan, Rang de Basanti, Three Idiots and Ghajini.
Nearly all big Bollywood stars, including Shah Rukh Khan, Amitabh Bachchan, Salman Khan and Akshay Kumar, have tried their hand at television shows.
'Human stories'
But Aamir Khan, often called "the thinking man's actor", had so far stayed away from the small screen.
The exact format and style of Satyamev Jayate is being kept under wraps, but the programme's makers describe it as "a journey of discovery, change, emotions and human stories which touch and inspire us".
"I am sure people will connect with the show. It is not a fiction show," Khan said.
The actor has travelled across India to speak to people as part of the show, he has also co-written a series of songs to accompany it which will be released later.
The show will be broadcast on Star TV and the government-controlled Doordarshan. It will be broadcast in Hindi and also dubbed in regional languages, including Telugu, Tamil, Malayalam and Kannada.
It will air at 11:00 (05:30 GMT) on Sundays, traditionally seen as a slot for big religious productions like the Mahabharata or popular children's shows.
Some commentators have described the timing as unusual, given that most big Bollywood shows are aired in prime-time evening slots.
Khan told reporters at a press conference: "I wanted to telecast my show on Sunday mornings because I wanted each family to watch the show and connect with it."