Two killed after falling off Mumbai train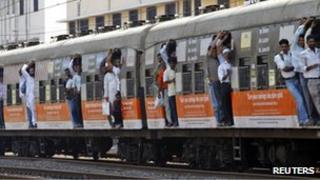 Two commuters have died and 15 others have been injured after falling from an overcrowded train in the Indian city of Mumbai.
Many passengers were leaning out of the train when the incident happened, railway officials said.
Trains on the city's suburban network have been running late due to a fire in a signalling equipment store.
India has one of the busiest rail networks in the world, and trains often run overcrowded.
The fire has caused huge delays on the network, leaving commuters stranded at several stations and overcrowding of trains.
Thursday's accident reportedly happened at the Mulund station when the men leaning out of the train hit a signalling pole on the side of the tracks.
Nearly 15,000 people die every year crossing railway tracks in India - a figure that the government has described as a "massacre".
Indian Railways operates about 9,000 passenger trains a day, carrying some 18 million people.