India court stays trial of Gujarat riots policeman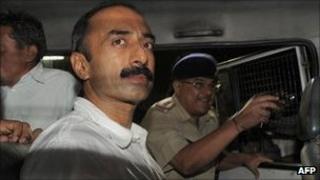 India's Supreme Court has suspended the trial of a police officer facing charges of falsely implicating Gujarat Chief Minister Narendra Modi in the 2002 anti-Muslim riots.
Sanjiv Bhatt claims Mr Modi said Hindus should be allowed to vent their anger. Mr Modi denies the charge.
More than 1,000 people, mostly Muslims, were killed when riots erupted after 60 Hindu pilgrims died in a train fire.
Mr Bhatt was a senior officer in the intelligence bureau during the riots.
He was suspended from duty and imprisoned last September for allegedly fabricating evidence to implicate Mr Modi in the riots. He was later released on bail.
On Friday, the Supreme Court suspended the trail against Mr Bhatt after he pleaded that the charges against him were fabricated and a result of a "political vendetta".
Mr Bhatt has sought an investigation into the charges by an independent agency.
He was arrested after a police constable, KD Pant, filed a complaint against him, accusing him of threatening him and forcing him to sign a false affidavit.
Mr Bhatt's lawyer argued in court that the police officer's arrest was "politically motivated" and alleged that his home was raided so that any documentary evidence of Mr Modi's role in the riots could be destroyed.
Earlier, in a sworn statement to the Supreme Court, Mr Bhatt said his position allowed him to come across large amounts of information and intelligence both before and during the violence, including material on the actions of senior administrative officials.
He also alleges that in a meeting on the night before the riots, Mr Modi told officials that the Muslim community needed to be taught a lesson following the incident on the train carrying Hindu pilgrims.