India mediators decline Maoist offer to negotiate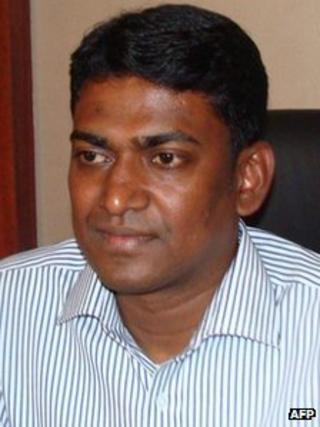 Two of the three mediators named by Maoist rebels in the Indian state of Chhattisgarh have refused to negotiate the release of Maoist cadres in exchange for freeing a senior official.
Supreme Court lawyer Prashant Bhushan and local politician Manish Kunjam declined the rebels' offer.
The rebels abducted Alex Paul Menon after killing his two guards in Sukma district on Saturday afternoon.
They have sought medicines for Mr Menon as his health is reported to be bad.
Maoist rebels have a strong presence in Chhattisgarh and neighbouring Orissa.
The rebels have said their demands of releasing eight of their top cadres from prison and withdrawing security forces from the restive Bastar region of Chhattisgarh will have to be met by Wednesday in exchange for Mr Menon, the BBC's Salman Ravi reports from Raipur, the capital of Chhattisgarh.
"I can appeal to Maoists but won't mediate in the crisis," Mr Bhushan said on Tuesday. "The Maoists should release the officer unconditionally," he said.
"I sympathise with Maoists and can listen to their legitimate demands but it is wrong to abduct a civilian officer," the lawyer said.
Communist Party of India (CPI) leader from Bastar, Manish Kunjam, declined the Maoists' offer citing regional circumstances and party obligations, Times of India reported.
Chhattisgarh chief minister Raman Singh has said the government is open to talking to the rebels to secure Mr Menon's release.
The government has named two former bureaucrats it would like to mediate on its behalf.
Mr Menon, an officer of the Indian Administrative Service, is the senior-most official - district magistrate - of Sukma district, which is located in the Bastar region.
Authorities said Mr Menon had gone to Manjhipara village to attend a meeting of local tribal villagers when Maoist insurgents surrounded the area, opened fire, killed his guards and took him away.
Prime Minister Manmohan Singh has described the Maoists as India's biggest internal security threat.
The rebels say they are fighting for a communist state and for the rights of tribal people and the rural poor.