Indian court convicts two of planting bombs in Jaipur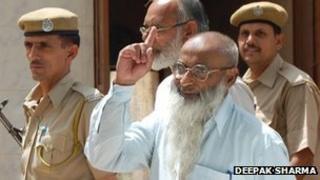 A court has convicted two men of planting several bombs in the Indian city of Jaipur in 1993.
Dr Jalees Ansari was sentenced to 15 years in prison and Abrer Ahmad Ansari was given a 20-year sentence by a court in Ajmer in northern Rajasthan state.
Most of the bombs were defused by the police, who were alerted to the threat after a man was injured when one of the bombs exploded.
Two other men were acquitted because of a lack of evidence against them.
The Ajmer court convicted both men under the Special Terrorist and Disruptive Activities Prevention Act, also known as Tada.
Jalees Ansari is currently serving a life sentence for his involvement in the violence that wracked the country after the destruction of the controversial Babri Mosque in Ayodhya by Hindu extremists in December 1992.
More than 2,000 people were killed in nationwide rioting and bomb attacks following the mosque's demolition.
The historic city of Jaipur has been targeted since the foiled attack in 1993.
A series of deadly bomb explosions in 2008 killed more than 60 people and injured dozens of others.