India launches first all-weather satellite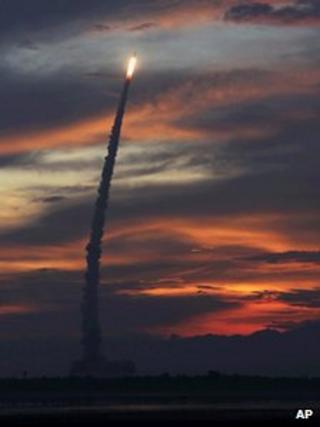 India has put into orbit its first all-weather radar imaging satellite which would be used for disaster prediction and agriculture forestry.
An indigenously developed rocket travelled for 17 minutes into space carrying the satellite, RISAT-1 on Thursday morning, scientists said.
Officials described the launch as "a grand success".
With the launch, India has joined a select group of countries like the US which have this advanced technology.
RISAT-1 has the capability to take images of the earth during night as well as in cloudy conditions, officials said.
The state-of-the-art radar fitted in the satellite will transmit high-resolution pictures that can be used for defence purposes too, they said.
Weighing 1,858kg, the RISAT-1 was launched from the launch pad in Sriharikota in southern Andhra Pradesh state.
It is the heaviest satellite launched by Indian Space Research Organisation (Isro) so far.
It will orbit the earth 14 times a day at 536km (333miles) above the earth.
India has a large constellation of remote sensing satellites in the world.
It has 11 remote sensing satellites orbiting the earth.
The country's Polar Satellite Launch Vehicle (PSLV) rocket has so far successfully launched 53 satellites in space.