India Maoists: Hopes rise for kidnapped official's release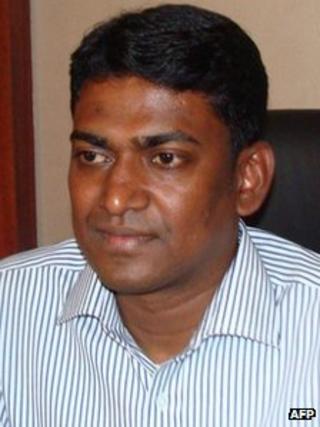 Hopes have risen for the release of an Indian official kidnapped by Maoist rebels in Chhattisgarh state after mediators reached an agreement.
The deal to free Alex Paul Menon, who was kidnapped on 21 April, must still be agreed by Maoist commanders.
In exchange, the government has agreed to review all cases of human rights violations in the state.
It is not clear if Maoist demands for the release of jailed supporters have been agreed by the government.
The rebels had earlier set a deadline of 25 April which was extended on Monday to 2 May.
'Goodwill gesture'
"The matter which is of utmost concern to the mediators is the well being of Alex - the young collector who continues to be with the CPI (Maoist), away from his family," the agreement signed between the government and the rebel negotiators said.
"The mediators nominated by the Maoists have agreed as a gesture of goodwill to ensure the safe return of Alex within 48 hours," it said.
The rebels are represented by retired bureaucrat BD Sharma and Professor G Hargopal, a social activist.
The mediators said they had agreed to set up a high-powered committee which would review allegations of human rights abuses lodged by tribes people and Maoist supporters.
Mr Menon is the most senior official of the Indian Administrative Service in Sukma district, part of Bastar region.
Authorities said Mr Menon had gone to Manjhipara village to attend a meeting of local tribes people when Maoist insurgents surrounded the area and opened fire.
Two of Mr Menon's guards were killed and the official was taken away.
Maoists have a strong presence in Chhattisgarh and neighbouring Orissa.
Prime Minister Manmohan Singh has described them as India's biggest internal security threat.
The rebels say they are fighting for a communist state and for the rights of tribal people and the rural poor.