India Jharkhand leader wounded in helicopter crash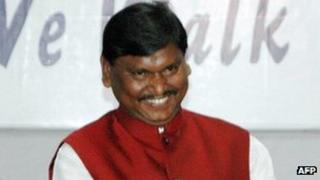 The chief minister of India's Jharkhand state has been injured after his helicopter crash-landed at an airport.
Arjun Munda "suffered injuries when the helicopter met with an accident while landing", senior police official Ranji Kumar said.
Five others on board, including Mr Munda's wife, were also injured. They have all been admitted to hospital.
The accident took place at the Birsa Munda airport in the state capital, Ranchi, on Wednesday afternoon.
"The helicopter fell from a height apparently due to a technical problem while landing," news agency Press Trust of India quoted a close aide of the chief minister as saying.
The helicopter was damaged in the accident, he said.
At least two chief ministers of Indian states have been killed in helicopter accidents in the past.
In May last year, Arunachal Pradesh Chief Minister Dorji Khandu and four others were killed when their helicopter crashed in bad weather.
And in September 2009, Andhra Pradesh Chief Minister YS Rajasekhara Reddy was killed in a helicopter crash.