Ex-Karnataka chief minister Yeddyurappa raided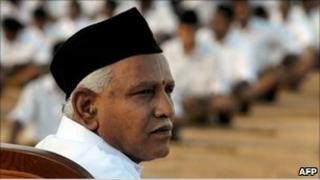 India's Central Bureau of Investigation (CBI) has raided the homes and offices of former Karnataka Chief Minister BS Yeddyurappa in a corruption case.
Properties of Mr Yeddyurappa's sons, BY Raghavendra and BY Vijayendra, and his son-in-law were also raided.
Last week, the Supreme Court ordered the CBI to investigate Mr Yeddyurappa after an anti-corruption report in 2011 indicted him in a $3bn mining scandal.
Mr Yeddyurappa denies any wrongdoing and says he will clear his name.
But he had to quit as chief minister after the Karnataka anti-corruption ombudsman accused him of serious wrongdoings between 2006 and 2010.
Mr Yeddyurappa is accused of showing "undue favours" to some companies involved in illegal mining and other alleged financial irregularities.
"A nine-member team headed by Inspector General of CBI Lakshmi Narayana raided Mr Yeddyurappa's residences in Bangalore's Dollars Colony and Race Course Road besides a firm owned by one of his sons," the Press Trust of India reported.
The raids began at 06:15 (12:45GMT) and would continue throughout Wednesday, it said.
Offices of two mining firms in Bellary district were also being raided, police said.
On Tuesday, the CBI registered a case against Mr Yeddyurappa for alleged abuse of power.
Illegal mining has been rife for years in Karnataka. The state reportedly produces about 45 million tonnes of iron ore a year and exports more than half of it to China.
The Supreme Court order and the CBI raids are being seen as a major setback for Mr Yeddyurappa as he has been putting pressure on the leadership of his Bharatiya Janata Party (BJP) to reinstate him as chief minister.