India's Kingfisher airline penalised for tax dues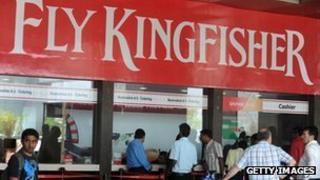 Tax authorities in India have initiated steps to penalise and charge Kingfisher airline for its failure to pay $49m (£31m) in taxes, the government says.
The airline deducted taxes from salaries, but did not deposit it with the government, junior Finance Minister SS Palanimanickam told the parliament.
The cash-strapped airline owes money to airports, tax authorities, lenders and its own staff.
An airline spokesperson refused to respond to the report.
"[A] survey... was conducted at the business premises of the company and subsequently a tax demand (including interest) amounting to 3.72bn rupees ($68m; £43m) was raised," Press Trust of India quoted the minister as saying in a statement in the parliament.
"Action for recovery has been undertaken and a total of 1.03bn rupees ($18.8m, £12m) has already been recovered," he said.
The airline has been struggling to maintain its day-to-day operations in recent months after banks refused to lend more money to the debt-laden carrier.
The airline has never made a profit since its launch in 2005.