India police foil protest in Kashmir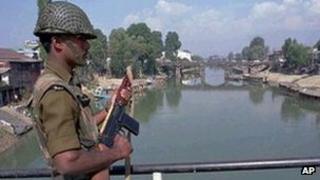 The police in Indian-administered Kashmir have arrested dozens of people to foil a protest march called by a separatist group on Monday.
The Hurriyat Conference has called for a shutdown in Srinagar, to mark the death anniversaries of two leaders.
Moulana Farooq and Abdul Gani Lone were killed by unknown assailants.
The Muslim-majority region has seen a separatist insurgency against Indian rule since 1989, although violence has declined in the last year.
Paramilitary forces and the police have been deployed in the city and around a graveyard where the group has planned to hold a mass prayer.
"The government claims to uphold democracy but our peaceful marches are being foiled. Dozens of our workers have been rounded up during night and our houses have been cordoned. This is mockery of peacemaking," separatist leader Mirwaiz Umar Farooq told the BBC.
The shutdown and security restrictions have disrupted normal life in the Muslim-dominated valley, correspondents say.
Schools and businesses are closed, and government employees are being transported to work in official vehicles.
Tens of thousands of people have been killed in Kashmir since an armed revolt erupted in 1989.