Blast in Allahabad garbage dumb kills four people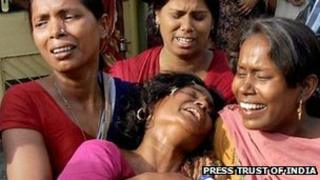 An explosion in the northern Indian city of Allahabad has killed at least four people, police have said.
A senior police officer said the blast took place in a garbage dump and at least two of the dead were children. Fifteen others were injured, he said.
The incident took place in the crowded Kareli area of the city. Police said it may have been a crude bomb deliberately thrown onto the dump.
Those injured in the blast are being treated in hospital.
Television pictures showed panic-stricken people running away from the site of the blast.
Police told the Associated Press news agency that the victims were "ragpickers" who sort through piles of rubbish for plastic, glass, metal and other objects which they can sell to recycle for cash.