Calcutta celebrates Indian Premier League win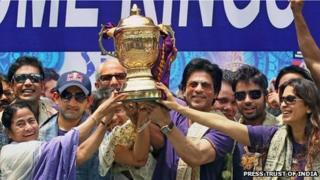 Tens of thousands of people in the Indian city of Calcutta have celebrated the victory of Kolkata Knight Riders in the Indian Premier League.
The cricket team's owner, Bollywood superstar Shah Rukh Khan, and the players led a parade through the streets to the Eden Gardens stadium.
The players were congratulated by West Bengal Chief Minister Mamata Banerjee.
Large numbers of police were deployed along the route of the parade and at the stadium, officials said.
The celebrations began with the arrival of the team at the Hazra crossing in south Calcutta, known in Bengali as Kolkata, on Tuesday morning.
Thousands of people lined the streets of the city in the sweltering heat to watch the actor and the players on their 5km (3-mile) victory parade.
At the stadium, watched by tens of thousands of fans, a band sang and played music while Khan, team officials and players danced on a stage.
The state government presented gold chains to all the team members.
"Thank you Kolkata. You've been very kind to us," Khan said.
The team arrived in the city on Monday night and was welcomed by a large crowd outside the airport.
At the IPL final on Sunday night, Kolkata Knight Riders beat defending champions Chennai Super Kings by five wickets.
Kolkata team owner Khan is one of Bollywood's biggest stars. He has appeared in more than 70 films, anchored television shows and appeared in innumerable advertisements.