India politician ND Tiwari's DNA taken in paternity row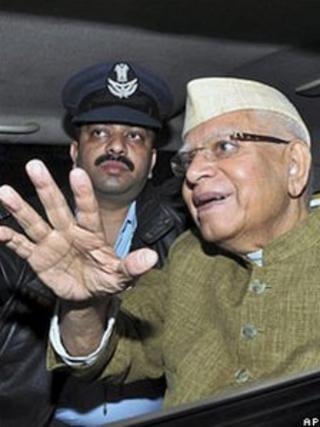 Officials have collected a blood sample from senior Indian politician ND Tiwari in a bid to verify whether a 31-year-old man is his son born out of wedlock.
A team of court and medical officials visited Mr Tiwari's house on Tuesday morning to take the sample.
Rohit Shekhar says his mother Ujjwala Sharma had a relationship with Mr Tiwari and has filed a paternity suit against the politician.
Mr Tiwari says the case is an attempt to malign his reputation.
The veteran politician had opposed an earlier court order to give a blood sample, saying he could not be forced.
But, last month, the Delhi High Court ruled that police help could be sought to collect his DNA if he resisted.
Mr Tiwari, 86, is a prominent member of India's governing Congress party.
He has been a federal minister in past governments and also the chief minister of Uttar Pradesh, India's most populous state.
In 2009, he resigned as the governor of the southern state of Andhra Pradesh after video footage surfaced allegedly showing Mr Tiwari in bed with three women.
His office denied the allegation, saying that the video had been doctored.