India strike over petrol price disrupts normal life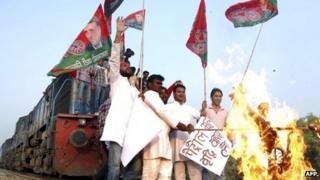 A strike called by India's opposition parties in protest against a sharp increase in petrol prices has disrupted normal life in parts of the country.
Protesters blocked traffic on the iconic Howrah Bridge in Calcutta and stopped trains in Uttar Pradesh state.
Some public buses have been damaged in the southern Karnataka state and auto-rickshaws gone off the roads in Delhi.
Last week, state-run oil firms raised petrol prices by more than 11% or 7.54 rupees (13 US cents) a litre.
The steepest single increase in a decade in petrol prices is likely to fuel inflation.
The oil firms said they were forced to increase prices because the falling rupee had made imports costlier.
'Business suffers'
Reports of anti-government marches, roadblocks and pickets outside government offices have come in from several parts of the county.
"The price rise is killing us and the government is sleeping but today we will wake them up," news agency AFP quoted Ravikant Sahai, a grocery shop owner in Delhi, as saying.
Mr Sahai said he would not open his shop and hoped many other traders would join the strike.
"Petrol price rises hurt everyone. Our business suffers. Why is this government determined to hurt us?" he said.
The strike has affected public transport and attendance in government offices, factories and educational institutions.
Opposition parties have demanded that the price increase should be rolled back.
In 2010, the government allowed state-run oil firms to fix the price of petrol but it continues to control the prices of diesel, kerosene and cooking gas to protect the poor and to keep a check on inflation.