How Vishy Anand retained his world chess title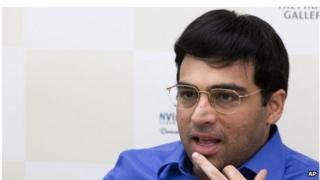 It was extraordinary that some of the world's most talented chess players in their 20s and 30s should come to the Tretyakov Gallery in Moscow and watch two players over the age of 40 slug it out for the world title. They were there to watch or comment on the match.
Some, like Lev Aronian - who was there for only a few hours - and Vladimir Kramnik, are placed even higher than Viswanathan Anand who is fourth in the world ratings.
Even former champion Anatoly Karpov dropped in for comments and, for the remaining period, such chess luminaries as Kramnik, Peter Svidler, Nigel Short, Jan Timman, Alexander Grischuk and Ian Nepomniatchi were giving their views on the matches.
Somewhere around midway through the championship, in walked the greatest chess player of our times, Garry Kasparov, and pronounced that for the first time the world chess title was being contested by two players who were not the best in the world.
Rare match
But wasn't Anand the legitimate and undisputed world champion since 2007?
And hadn't Boris Gelfand come through the prescribed qualifying process, beaten and found his way past younger and higher rated players?
It is no-one's fault if an unseeded player upsets the Number One seed in the first round at Wimbledon.
It is no-one's fault that World Number One Magnus Carlsen did not come to the party. The cake had been cut and served.
Rarely, if ever, has there been a match between two players aged over 40 for the world title.
But rarely has a world chess title been fought between two guys, who are not just friends with each other but also everybody else around them.
'Lucky'
You will see neither standing on the rooftop and shouting themselves hoarse on how good they are or how they have been wronged. They take each and every incident in their stride.
Gelfand had learnt to take the barbs of "being called lucky" for many of his successes and he grew up in an era when the former Soviet states had the likes of Kasparov, Anatoly Karpov and later Vladimir Kramnik.
He is not the kind who has a rockstar-like fan-following, but ask any chess player and they will tell you how solid he is.
Anand said, "Boris makes very few mistakes. He is solid." Kramnik, Peter Svidler, Jan Timman and many others voiced similar opinions.
Viswanathan Anand grew up at a time when there were very few players from a non-Soviet background.
In fact when he achieved his first and most famous success at the Reggio Emilia in 1992, he was the ONLY player out of 11, who was neither from the former Soviets states nor had any connection with them.
Indian sports federations are notorious for neglecting their talented stars and Anand should know a thing or two about that.
He ploughed a lone furrow. He left India for Spain and elsewhere in Europe to do what he does best - play chess. And became a world champion.
He stood silently and awaited his time, even as he seemed to get short-changed whenever compromise solutions were being worked out to find an undisputed world champion in the era of split world titles - Fide and Classical.
But since 2007, he has been undisputed world champion.
So what if he has not won a big title in last two years. So what, if the ratings place him only fourth in the world - Gelfand is 20th but he found his way past players rated above him.
All that it shows is that they are mentally better equipped to handle a world championship.
Anand and Gelfand may not have fought the most scintillating and intense dramas in the annals of World Chess history, but it was a tough battle all right. They were not just battling against each other but also many outside.
Outplayed
Their draws will have seemed short and "boring" to many, but through those draws they could read each other's minds. They sparred with each other mentally and knew when to stop and retire for the next battle.
Initially Gelfand surprised Anand with an opening or an innovation or a novelty. The Indian dealt with it perfectly. And then it was Anand's turn to do the same.
It was like two people reading each other's minds and the rest trying to guess what they were thinking.
Then, in the seventh game, Anand found himself helpless against Gelfand, who simply outplayed him. Anand picked himself up and recovered to win the next day.
Anand recalled, "If I had to pick a moment I'm really proud of it's my reaction to the 8th game. I understand it wasn't Boris' best game, but still I cannot remember such a black day like after game seven. I couldn't sleep. That day I really thought I'd blown the match. Because it was also getting tough, I mean I was still going to give it my best shot. Game 8 was just very, very important for my morale also."
Back in 1995, Anand won the ninth game of the title match against Kasparov, but the latter came back with a vengeance in the next few games and beat Anand by a mile.
It takes a champion to pick up the pieces like that. Kasparov did it then. Anand did it this week.
On the title's deciding tiebreaker, Anand added, "Well, today it's difficult really to claim anything; I would say simply that my nerves held out better. Even these four games [with] so much back and forth going on, I simply hung on for dear life, I won't claim more than that."
Chennai defence?
Anand and Gelfand drew their first six games and then traded a win each in seventh and eighth and drew four more.
In the rapid-fire tiebreakers, they drew the first and Anand beat Gelfand in the second after the latter ran into time problems. Gelfand had the edge in the third and fourth, but Anand held out for draws.
The world crown was back with Anand for two more years. And he could well be defending it in his home town, Chennai, which is likely to bid for the match in 2014.
V Krishnaswamy covered Anand's first title match in 1995 against Garry Kasparov and was in Moscow to cover Anand's latest win