India Congress chief Sonia Gandhi backs Manmohan Singh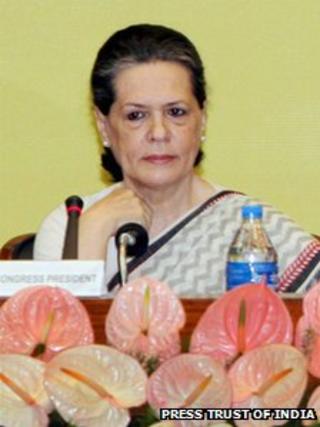 India's Congress Party head Sonia Gandhi has said corruption charges against Prime Minister Manmohan Singh are part of a "conspiracy".
Mrs Gandhi also criticised the opposition parties and civil society activists for making "baseless charges" against the government.
She said the party would have to "fight fiercely" against such allegations.
Last week, Mr Singh said he would "give up public life" if any corruption charges against him were proved.
Campaigners say Mr Singh and 14 cabinet ministers should be investigated after a draft report by government auditors said India lost $210bn by selling coalfields too cheaply.
The Congress chief's comments were made at a crucial meeting of the senior party leaders and government ministers on Monday.
Mrs Gandhi also referred to the economic challenges facing the country.
"The whole world is passing through a difficult phase and we have to face it and we are facing it," she said.
India's growth rate fell to its lowest in almost a decade at 5.3% in the first three months of this year and the rupee has hit an all time low against the dollar.