India girl Baby Shirin battered, burnt with cigarettes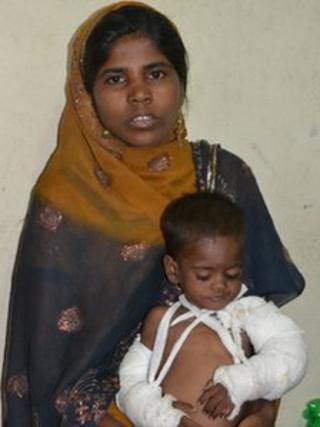 An 18-month-old baby with cigarette burns and several broken bones has been admitted to a hospital in the Indian city of Indore.
Baby Shirin was brought to the hospital by her mother Shabana.
Police said they had arrested Sheikh Wahid - the man Shabana had been living with for the past fortnight along with her three children.
This is the third such case of child abuse reported in India since January. They have provoked widespread outrage.
Police said Sheikh Wahid had been arrested for allegedly abusing the child.
He is accused of "causing grievous bodily harm to the child" and the police are trying to charge him under "juvenile justice act", senior Indore police officer A Sai Manohar told the BBC.
The child had 11 cigarette burn marks all over her body and fractured arms and she was now recovering, he said.
In March, a severely battered toddler, Baby Falak , died in a hospital in the Indian capital, Delhi. She was brought in with serious injuries, including human bite marks all over her body, in January.
A similar case was reported from the southern city of Bangalore in April where three-month-old Baby Afreen was battered by her father who allegedly wanted a son. She died after attempts to revive her failed, doctors said.