Court upholds Bihar MP life sentence for instigating murder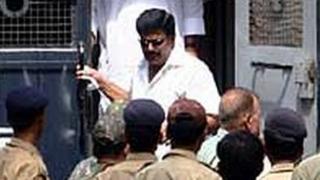 India's top court has rejected appeals against the conviction of former Bihar MP Anand Mohan for his role in a 1994 murder, upholding his life sentence.
Mohan and his wife were convicted for instigating the murder of a civil servant who was lynched by a crowd.
Mohan was initially sentenced to death, but this was later commuted to life imprisonment. His wife was given a life term but later acquitted.
The Supreme Court order was delivered on Tuesday morning.
The brutal killing of a district magistrate named G Krishnaiyah by an angry crowd incited to shoot, stone and beat him to death was taken as a symbol of the extent of lawlessness in the state of Bihar.