Love marriages 'banned in Indian village'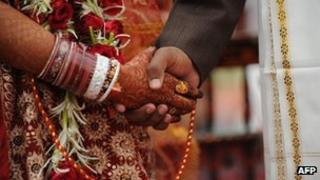 A village in northern India has banned love marriages and imposed a series of restrictions on women, reports say.
Council leaders in Asara in Uttar Pradesh state have reportedly barred women under 40 from shopping alone and from using mobile phones outside.
They have also ordered women to cover their heads when outside.
Village heads say the measures are a response to cases of harassment, but the Press Trust of India news agency reports police are investigating.
The village council order was issued at a meeting on Wednesday, officials said.
The council also ruled that those marrying for love would not be allowed to live in the village, reports said.
Baghpat district, which is where Asara village is located, is only about 40km (25 miles) from the Indian capital, Delhi.