Gagan Narang: 'A great guy'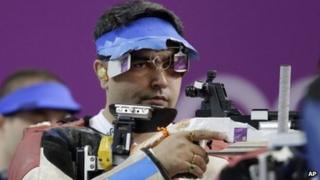 Two years ago Gagan Narang was on the verge of quitting shooting.
The sport had fetched him numerous medals in international events, including the Asian and Commonwealth Games.
But he felt hurt that he was ignored for the Rajiv Gandhi Khel Ratna award, the highest recognition for Indian sportsmen.
Narang, a gadget lover and an accomplished photographer, who has published a coffee table book, was willing to walk away from the sport.
He even went to the extent of saying so on a television channel, in whose studios this writer happened to run into him then.
Stifled
But family, friends and shooting officials managed to convince him to stay on and he went on to win as many as four gold medals.
He added a World Championships medal and he also has a share of the world record of 600/600 in the 10m air rifle qualifications.
Narang seemed to have it all.
Or did he? There was one thing missing - an Olympic medal. And it was a weight that was beginning to crush him as he prepared for his third Olympics.
Over the years, the gregarious Narang despite being very popular in his own community, seemed to be stifled under the shadow of the reticent star shooter Abhinav Bindra.
They were among the best in the world in 10m air rifle. But Bindra had won a gold in the 2006 World Championships and 2008 Olympics, even though Narang had a bunch of Commonwealth Games gold medals.
In the 2008 Olympics, Bindra bagged the gold, while Narang was left out of the final eight on a technicality even though he was tied with four others, who went ahead on the countback.
Some say that Narang was in as good a form as Bindra, if not better, but luck deserted him then.
Rivalry
He did get the Arjuna Award, but there were awards and accolades for which he was bypassed, or so he felt.
Bindra and Narang have different coaches and are backed by different sports foundations and trusts added to the rivalry.
Narang was the face of the Olympic Gold Quest backed by a bunch of Indian sporting legends while Bindra was the poster boy of Mittal Sports Foundation, backed by LN Mittal, the steel magnate and one of the richest men in the world.
Outwardly they are "friends" but there is no denying a rivalry and an undercurrent.
On Monday, Narang scored 701.1 for the bronze, while Romania's Ali George Moldoveanu (702.1) took the gold, and Italy's Niccolo Campriani (701.5) grabbed the silver.
Micro-seconds after the final shot, Narang allowed himself a minor fist pump.
"I nailed it," he would say later.
''It is like a huge stone is off my chest. I had not managed to qualify for the finals in the last two Olympics and that was really painful," said Narang.
But he smiled and added, "I am not really happy. My coach is also not happy with the score. Scoring 600 is always challenging, but I made a few technical mistakes at certain points. But then an Olympic medal is an Olympic medal."
"I think only a little credit goes out to me but my parents and sponsors have put in a lot of hard work which paid off," he said. "The pressure was immense. I could have done better. But I am happy with my medal. It means a lot to a lot of people who have worked for this."
At the press conference, the gold and silver medallists were generous in their appreciation.
Campriani said, "I have shot with Gagan and been on the podium with him in the World Championships. I am sure this will be great for Indian shooting."
And the gold medallist Moldoveanu, a man of few words, laconically added, "He is a great guy".