Pakistan sacks 'shoe-shining' law officer Khurshid Khan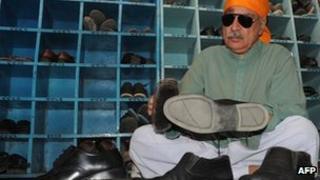 The Pakistani government has sacked the deputy attorney general, Khurshid Khan, who hit the headlines when he polished shoes at Sikh temples in India.
No reason was given, but Mr Khan said the move was politically motivated.
Mr Khan told the BBC he had been warned to drop corruption cases against powerful figures in the government.
He was accused of defaming the country by shining shoes and sweeping floors on an official visit to Pakistan's arch-rival India in March.
Mr Khan, who is currently in Nepal, said he performed the service to promote inter-faith harmony and to improve the image of Islam and Muslims.
The BBC's Shahzeb Jillani says it is believed that some in the Pakistani government were upset with him, particularly after photographs of him showing him polishing shoes of devotees at shrines in India were splashed across newspapers.
Last month, the Supreme Court Bar Association of Pakistan denounced him, saying his actions had damaged the country's image.
Talking to the BBC from the Nepalese capital, Kathmandu, Mr Khan said he would pursue his fight against corruption with greater determination.